Animal Adoption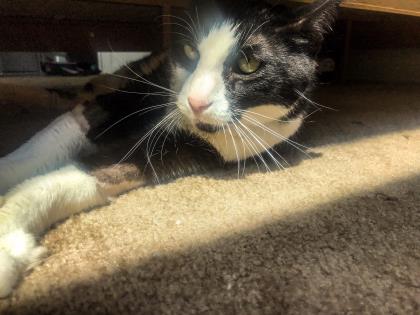 Oz
Oz is currently available for adoption but continues to reside with his loving family. Lucky cat - doesn't have to experience the stress of living in the shelter! Oz has recovered from a urinary obstruction, and is doing wonderfully on a special diet that will help keep him healthy.
The following information was provided by Oz's family:

"This is one of the sweetest cats I've ever met. He loves belly rubs and will grab chunks of your hair to groom it.
I suspect he would do better in a quiet household, but he gets along with dogs. He has food, litter, litter box, Feliway spray, catnip, bowls with a stand, and a sizeable cat tree I would be happy to send with him to his new home. "

If you are interested in meeting Oz please contact the Humane Society of Boulder Valley Foster department at 303-442-4030, extension 697, or e-mail foster@boulderhumane.org. Please note that adoption counseling may be provided by this animal's family resulting in a slightly different experience than you would have if the animal were here at the shelter.
Adopt and Protect this pet with the 24PetWatch Gift of Pet Accident Insurance. Visit us at
www.24PetWatch.com
or call 1-877-291-1524.