Professional Educational Opportunities
The Humane Society of Boulder Valley's Veterinary Clinic is committed to sharing the knowledge that we have gained in our unique model of shelter and public practice medicine. We accomplish this by providing a variety of educational opportunities to veterinary professionals and students.
1-Year Veterinary Internship in Shelter Medicine
The Humane Society of Boulder Valley's Veterinary Clinic offers a year-long paid internship for veterinarians. The goal of our internship is to advance the knowledge and educational foundation of a recent veterinary graduate in shelter medicine, surgical practices, and client-based veterinary medicine through direct case management and mentorship. The veterinary intern will be involved in all aspects of medical care: shelter medicine, high volume/high quality spay and neuter, assessment and treatment of hospitalized animals, outpatient appointments, client services, integration and teaching of veterinary student externs, and opportunities for out-rotation to a specialty/emergency facility.
Interested applicants are encouraged to schedule a visit of our facility, and must apply through the AAVC Veterinary Internship and Residency Matching Program (VIRMP). A full internship program description is available on the VIRMP website.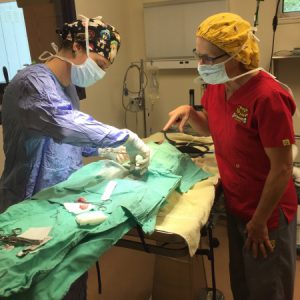 Veterinary Student Clinical Externships
We offer two- to four-week Shelter Medicine Externships to senior (fourth year) veterinary students. In the shelter, students will focus on processes around the transfer, impoundment and adoption of companion animals. Students have the opportunity to hone physical exam skills and learn about disease control, behavior evaluation, and behavior modification in the shelter environment. In the veterinary clinic, students assist our veterinary team in a wide variety of skill appropriate procedures, including medical diagnostics, treatments, and supervised sterilization surgeries for shelter and foster animals.
Externships are also available for junior (third year) veterinary students. These students may apply for a two-week shelter experience, which includes attending daily medical rounds and working alongside veterinary technicians to provide medical support in the treatment of shelter patients. Please contact us for more details on the shelter program for third year veterinary students.
Students are encouraged to apply early, as dates fill quickly and we cannot guarantee date availability until student application process is confirmed. For application information please click here.  Please include your name, school, and anticipated graduation date in all of your correspondence.
Veterinary Technician Internships
In conjunction with AVMA accredited veterinary technician programs, our clinic offers opportunities for veterinary technician students to complete their school externship or internship requirement.  We cannot accept veterinary assistant students at this time.